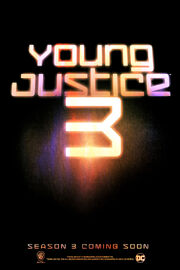 Young Justice: Resurrection is the third season of the Young Justice series.
Characters
Edit
The Team/Young Justice:

Kaldur'ahm/Aqualad (Khary Payton)
Dick Grayson/Nightwing (Jesse McCartney)
Connor Kent/Superboy (Nolan North)
M'Gann M'orzz/Miss Martian (Danica McKeller)
Garfield Logan/Beast Boy (Logan Grove, later Greg Cipes)
Bart Allen/Kid Flash (Jason Marsden)
Karen Beecher/Bumblebee (Masasa Moyo)
Mal Duncan/Guardian (Kevin Michael Richardson)
Tim Drake/Red Robin (Dominic Scott Key)
Cassie Sandsmark/Wonder Girl (Mae Whitman)
Virgil Hawkins/Static (Bryton James)
La'Gaan/Lagoon Boy (Yuri Lowenthal)
Jaime Reyes/Blue Beetle (Eric Lopez)
Kara Zor-El/Supergirl (Andrea Baker)
Cissie Jones/Arrowette (Andie McAffe)
Stephanie Brown/Batgirl II (Mae Whitman)
Greta Hayes/Secret (Masasa Moyo)
Damian Wayne/Robin IV (Max Charles)
Marvin White (Nolan North)
Wendy Harris (Masasa Moyo)
Bette Kane/Flamebird (Alyson Stoner)

Wally West (Jason Spisak) - was mentioned numerous times by his teammates and villains, but it is revealed in Episode 20 ???
Clark Kent/Superman (Nolan North)
Diana of Themyscira/Wonder Woman (Maggie Q)
Oliver Queen/Green Arrow (Alan Tudyk)
Arthur Curry/Aquaman (Phil LaMarr)
J'onn J'onzz/Martian Manhunter (Kevin Michael Richardson)
Barry Allen/Flash (George Eads)
Raymond Palmer/Atom (Jason Marsden)
Hal Jordan/Green Lantern (Josh Keaton)
Katar Hol/Hawkman (Rick D. Wasserman)
Shayera Hol/Hawkwoman (Grey DeLisle)
Giovanni Zatara/Dr. Fate (Nolan North/Kevin Michael Richardson)
John Stewart/Green Lantern (Kevin Michael Richardson)
Billy Batson/Captain Marvel (Chad Lowe)
John Ulthoon/Red Tornado (Jeff Bennett)
Eel O'Brien/Plastic Man (Tom Kenny)
Augustus Freeman/Icon (Tony Todd)
Guy Gardner (Diedrich Bader)
Zatanna Zatara (Lacey Chabert)
Raquel Ervin/Rocket (Cree Summer)
Justice League International: replaces the Justice League when Luthor threatened to expose their secret identities

Nathaniel Adams/Captain Atom (Michael T. Weiss) - represents America
Beatriz da Costa/Fire (Grey Griffin) - represents Brazil
Tora Olafsdotter/Ice (Jennfer Hale) - represents Norway
Mari McCabe/Vixen (Cree Summer) - represents Africa
Kimiyo Hoshi/Dr. Light (Lauren Tom) - represents Japan
Apache Chief/Amos Longshadow (Grahame Greene) - represents Canada
Grigori Wegdnicoff/Red Rocket (Udo Kier) - represents Russia
Courtney Whitmore/Star Girl (Melissa Disney) - represents America
Ky Sien/Storm Dragon (Andrew Kishnow) - represents Japan
Harrison Welles/Air-Wave (Tom Cavanough) - represents Ireland
???/??? (???) - represents ???
???/??? (???) - represents ???
???/??? (???) - represents ???
???/??? (???) - represents ???
???/??? (???) - represents ???
???/??? (???) - represents ???
???/??? (???) - represents ???
???/??? (???) - represents ???
???/??? (???) - represents ???
???/??? (???) - represents ???

Jade Nguyen/Cheshire (Kelly Hu)
Koriand'r/Starfire (Jodi Benson): costume based on the classic design, plus April O'Neil from 2003.
Outsiders:

Bruce Wayne/Batman (Bruce Greenwood)
Jefferson Pierce/Black Lightning (Khary Payton)
Tatsu Yamashiro/Katana (Kelly Hu)
Rex Mason/Metamorpho (Adam Baldwin)
Brion Markov/Geo-Force (David Faustino)
Gabrielle Doe/Halo (Andrea Baker)
Jack Ryder/Creeper (Charlie Adler)

Donna Troy/Troia (Grey DeLisle): Exposed pretending to be Starfire in Justice League vs. Teen Titans, and confesses about Antethiss.
Garth/Tempest (Yuri Lowenthal)
Birds of Prey:

Barbara Gordon/Oracle (Alyson Stoner) - leader of the group, has been wheelchair bound by the Joker when he was driving her father, Commissioner Gordon mad by showing pictures of her paralyzed state
Dinah Laurel Lance/Black Canary (Vanessa Marshall)

Suicide Squad:

Col. Rick Flagg, Jr. (Marc Worden, based on Joel Kinnaman's likeness)
Floyd Lawton/Deadshot (Keith Ferguson, based on Will Smith's likeness)
George Harkness/Captain Boomerang (Steven Blum, based on Jai Courtney's likeness)
Harleen Quinzel/Harley Quinn (Kathrine Von Till, based on Margot Robbie's likeness)
Chato Santana/El Diablo (Carlos Alazraqui, based on Jay Hernandez)
Waylon Jones/Killer Croc (Kevin Michel Richardson, based on Adewale Akinnuoye-Agbaje's likeness)
Artemis Crock/Tigress (Stephanie Lemelin)
Christopher Weiss/Slipknot (Bruce Thomas, based on Adam Beach's likeness)

Dr. June Moone/Enchantress (Pauley Perrete, based on Cara Delevingne's likeness) - love interest to Rick Flagg, Jr.
Villains
Edit
Darkseid (Peter Weller) - the main antagonist of the season, and the true master of the Light, orchestrating everything such as the Invasions, Godfrey's deceit, and monsters from Cadmus.
Kalibak (Michael Dorn) - Darkseid's son
Desaad (Dee Bradley Baker)
Glorious Gordon Godfrey (Tim Curry) - the benefactor of the Light, helps Luthor with his campaign for President, by bad mouthing the League, and embarrassing the Team with teasing names, "Junior Leaguers", "Baby Fighters" and "Teen Toddlers", and mocking how Artemis wore a green costume without a superhero name after finally choosing Tigress, He was exposed to be from Apocalypse and was arrested by Cadmus.
Vandal Savage (Mickey Rourke, replacing Miguel Ferrer after his death) - having known that the Light has been splintered, and that the Reach's partnership have been destroyed, Savage and Klarion take the War World to Darkseid to inform him of the failures and ask for his aid in the conquest, he also serves as Darkseid's prophet to turn people into Justifiers under the control of the Anti-Life Equation, after discovering the secret identities of the Leaguers controlled by the Starro-tech, he arranged a failsafe of wiping their whole memories from them in order to turn them into the Justifiers, enforcers to Darkseid, he was killed by Darksied for his failures with the very stone that gave him his powers. His voice actor, Miguel Ferrer died on January 19, 2017 after a battle with throat cancer, so they replaced him with Mickey Rourke as his new voice actor.
League of Shadows:

Ra's al Ghul (Graham McTavish replacing Oded Fehr)
Talia al Ghul (Nikki Cox)
Ubu (Fred Tatasciore)
Jason Todd/Red Hood (Alexander Martella as 13-Year Old Jason Todd/Robin, Vincent Martella as 16-Year Old Jason Todd/Robin, Jensen Ackles as 21-Year Old Jason Todd/Red Hood) - revived by Ra's al Ghul only to double cross him for revenge on Joker, and exposing Ra's as the man who murdered Thomas and Martha Wayne.

Lex Luthor (Mark Rolston) - was a candidate to become U.N. Secretary General of the United Nations, while interviewed by G. Gordon Godfrey, Luthor revealed due to the fact he was taken for all the credit that helped 40 of the heroes stop the Reach, he announced on Independence Day, he will running for President, but is revealed to be creating the Legion of Doom with Brainiac.
Black Manta (Khary Payton) - works with Luthor in authorizing the Legion of Doom as an ops squad to combat the Team
Edward Nygma/Riddler (Jason Spisak)
Queen Bee (Marina Stirtis)
Brotherhood of Evil:

Brain (Corey Burton)
Monsieur Mallah (Dee Bradley Baker)
General Immortus (Dwight Schultz)

Klarion the Witch Boy (Thom Adcox-Hernandez)
Roman Sionis/Black Mask (Wade Williams)
Selina Kyle/Catwoman (Grey Griffin)
Brother Blood (David Kaye)
Brainiac (Patrick Stewart)
Carol Ferris/Star Sapphire (Kari Wahlgren)
Crusher Crock/Sportsmaster (Nick Chinlund) - during a mission with the League of Shadows, he and Paula were the top agents, but Batman and Green Arrow followed pursuit as they both encountered the League of Shadows, Paula become frightened of the mission, desperate to return to Artemis and Jade, Sportsmaster protested as he needed to get the job done, while they were arguing, they were attacked by a Cadmus bomb, which paralyzed Paula, as she is forced to take the fall for the League's crimes, Sportsmaster, feeling terrible for this, he cowardly ran away, having learned of their children, this became the reason why Batman and Green Arrow decide to help Artemis through the pain
Crystal Frost/Killer Frost (Vanessa Marshall)
Cameron Mahkent/Icicle, Jr. (Yuri Lowenthal)
Bane (Eric Lopez)
Psimon (Jeff Bennett)
Mark Desmond/Blockbuster (Mark Rolston)
Tiamat - the plot that was setting him free with the artifacts was a plan orchestrated by Ocean Master, as he wanted to use him to destroy the world, so Atlantis would be safer and under his rule, which is the reason he is poorly disgraced from the Light
Episodes
Edit
Episode_Numbers
Episode_Titles
Air_Dates
Synopsis
Plot
Timestamps
Title_References
1.
Young Justice For All
November 17, 2017
Four years after the Reach Invasion, the Team reunites in order to face new twists, new turns and new threats.
January 5, 2015 (Team Year Five): Joker brutally beats up the 2nd Robin, Jason Todd with a crowbar, and leaves him to die in an explosion in a warehouse, when Batman, Nightwing and the Team found his dead body, Batman picks it up, cradling it, mourning for his dead son.
July 4, 2020 (Team Year Ten):
July 4
The title refers to ???
2.
Reach for the Stars
November 17, 2017
Starfire joins the Justice League and exposes Donna Troy as an Identity thief, and a ploy for glory!
July 5:
July 8:
July 5-8
The title refers to ???
3.
???
2018
July 17:
July 18:
July 17-18
The title refers to ???
4.
???
2018
June 19:
July 22:
July 23:
June 19
July 22-23
The title refers to ???
5.
???
2018
August 3:
August 4:
August 3-4
The title refers to ???
6.
???
2018
August 7:
August 8:
August 9:
August 7-8-9
The title refers to ???
7.
???
2018
July 27
August 19-20
8.
???
2018
August 27
September 3
The title refers to ???
9.
???
2018
???
September 4:
September 5:
September 4-5
The title refers to ???
10.
???
2018
September 7
11.
???
2018
September 16:
September 16
The title refers to ???
12.
???
2018
September 22:
September 22
The title refers to ???
13.
???
2018
September 10:
September 23:
September 24:
September 10-23-24
The title refers to ???
14.
???
2018
October 1:
October 1
The title refers to the revelation that Jason Todd is Red Hood, and was revived by Ra's al Ghul and trained for 6 years of learning from him to be an assassin.
15.
???
2018
October 10:
October 10
The title refers to ???
16.
???
2018
October 16
17.
2018
October 23
18.
2018
October 31
19.
Emancipation
2018
Zatanna has tried for years to free her father from being Nabu's control, but when something happened to Dr. Fate in a battle with Wotan, someone takes back control of their own mind.
November 5-7
The title refers to Zatanna trying to find answers on how to free her father from Nabu's control. It also refers to Zatara's emancipation.
20.
???
2018
November 11-12
21.
2018
November 22-23
22.
2018
November 25
23.
2018
December 4-5-6
24.
2018
December 22-23-24
25.
2018
December 30
26.
2018
December 31
Ad blocker interference detected!
Wikia is a free-to-use site that makes money from advertising. We have a modified experience for viewers using ad blockers

Wikia is not accessible if you've made further modifications. Remove the custom ad blocker rule(s) and the page will load as expected.